Morski Dar 09 EOOD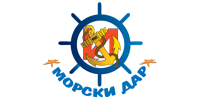 Address:

Gorni Bogrov, Han Bogrov area, 24 Selskostopanska Street
Postcode:
1806
Tel.No:
+359 2 957 20 58; +359 895 763 436
Fax:
-
E-mail:
morskidar@abv.bg
Website:
www.morskidar.bg
Activity:

The company launched its activities in 2003 in the city of Sofia and its main object of business was the sale of fresh and frozen fish and fish products in its own shops. In 2009 Morski Dar EOOD started its distribution activities and some of the best restaurants, hotels and hypermarkets became the first clients of the company. In 2011 Morski Dar EOOD added the import of fish and fish products from Greece, France, Denmark, Norway, Senegal, etc. to its portfolio.

The company is the official distributor of frozen products produced by OMIROS SA, Nordic Seafood, Dayseaday, Seacorin and the marinated products and caviars of the Greek company Hellenic Gastronomy Paltsidi S.A.

In 2019 the company opened its own warehouse base and a processing factory having area of 1300 sq.m, of which 600 sq.m are equipped with a state-of-the art refrigerating equipment. The production process is carried out using modern machines for skinning and boning fish, packing in protected environment, vacuuming etc.

Additional information:

The company has a cooling warehouse area of 600 sq.m, production area of about 700 sq.m and a forwarding centre, all of them having total area of 10 000 sq.m located in the village of Gorni Bogrov, Han Bogrov area, 24 Selskostopanska Str.

We have established an accurate process and documentation control system (НАССР) in compliance with all permissions and sanitary requirements set by ISO 22000:2005 and carry out our activities under veterinary registration no. BG2213014EO.